This easy crochet cardigan pattern Waterfall is a free pattern and is perfect for a relaxed day at the beach. Featuring charts and diagrams, a beautiful waterfall drape, a relaxed open front and long flowy tassels, this pattern is fun and easy to make and wear.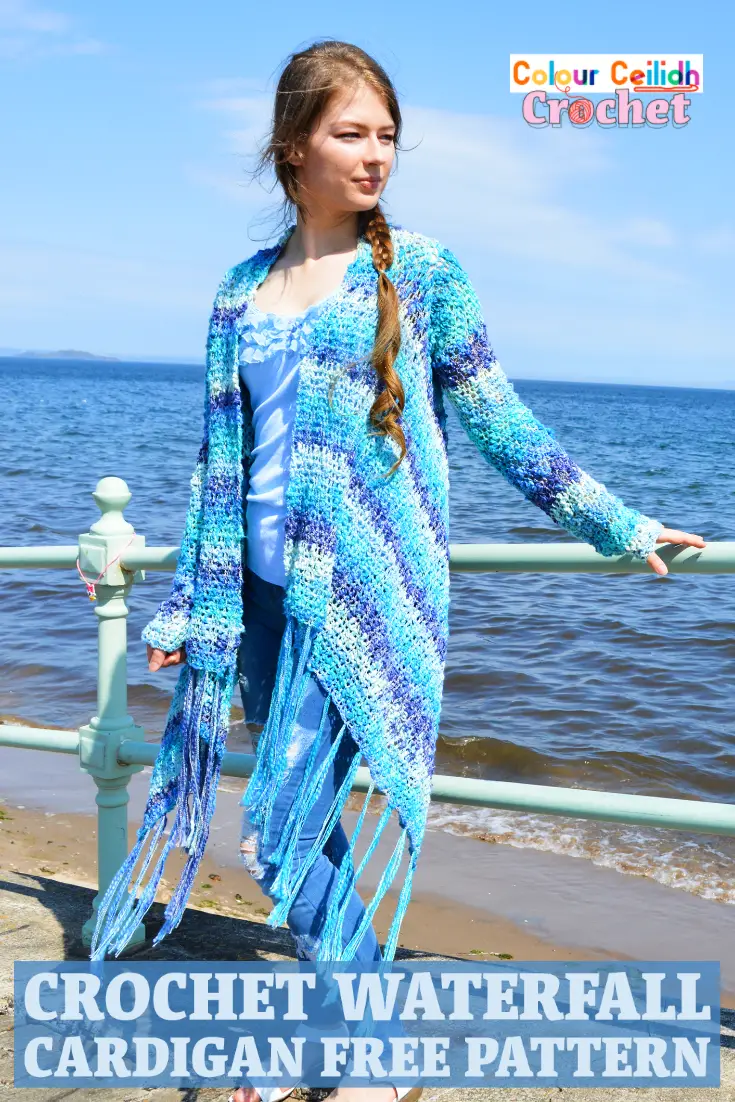 This post contains affiliate links to products. I may receive a small commission for purchases made through these links.
The Yarn
I'm using the very intriguing King Cole Opium Palette. I love it how unpredictably the fabric changes as I crochet with this yarn, as opposed to if I was knitting. It makes it very interesting to work with and feel the texture changes between my fingers.
Obviously I prefer the look of the crochet fabric than the knit fabric with this yarn 🙂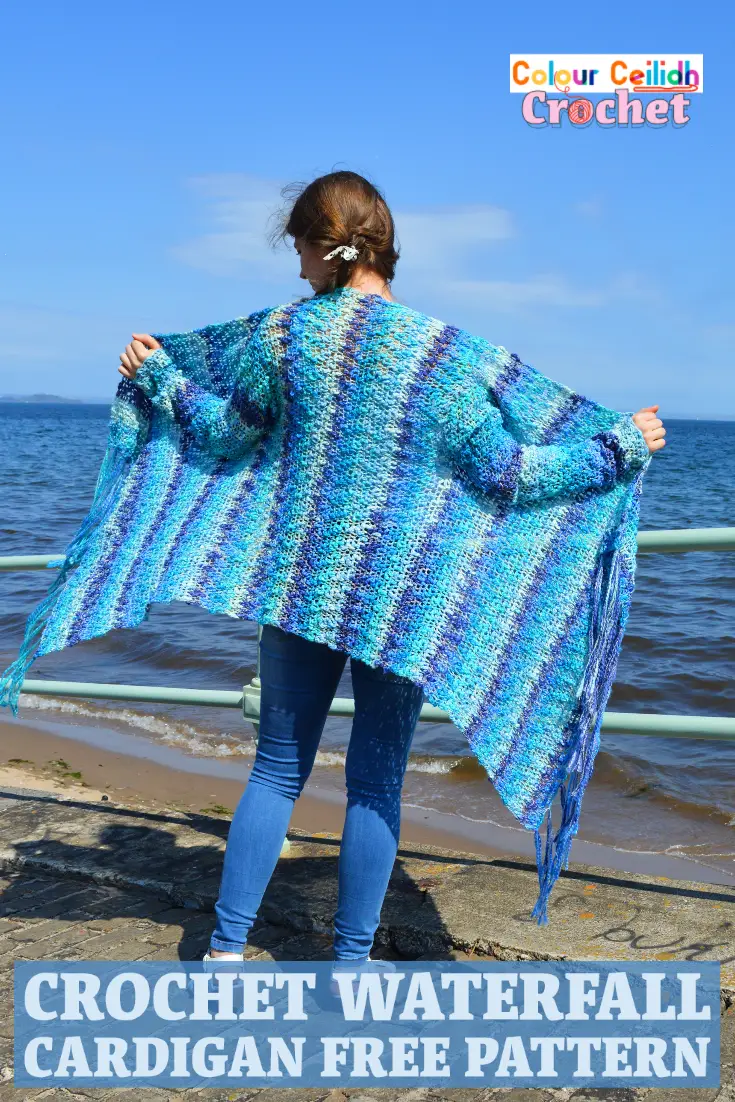 I love the random thick bursts of color that feel soft between my fingers and then comes the thin cotton feel yarn in between. These two textures keep alternating between each other and as a result every row and every stitch looks different.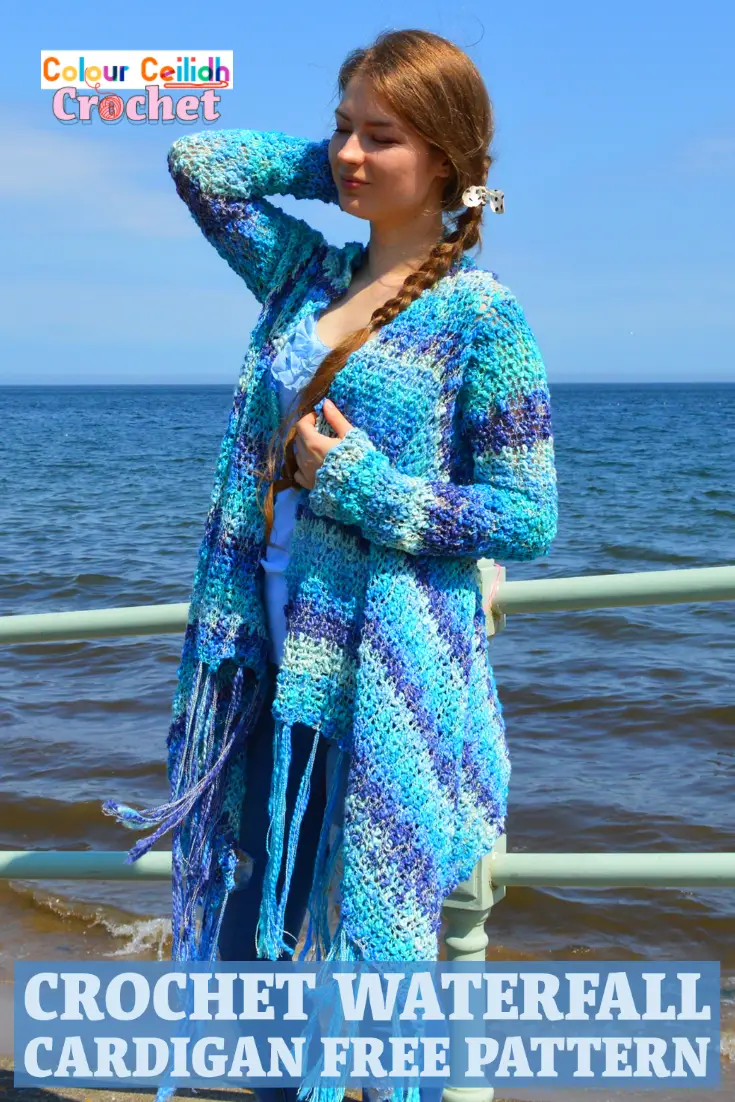 So not only the beautiful blue color palette of this yarn reminds me of the sea, but the texture of this yarn reminds me of the sea waves too. Therefore working with this yarn is a very sensual experience.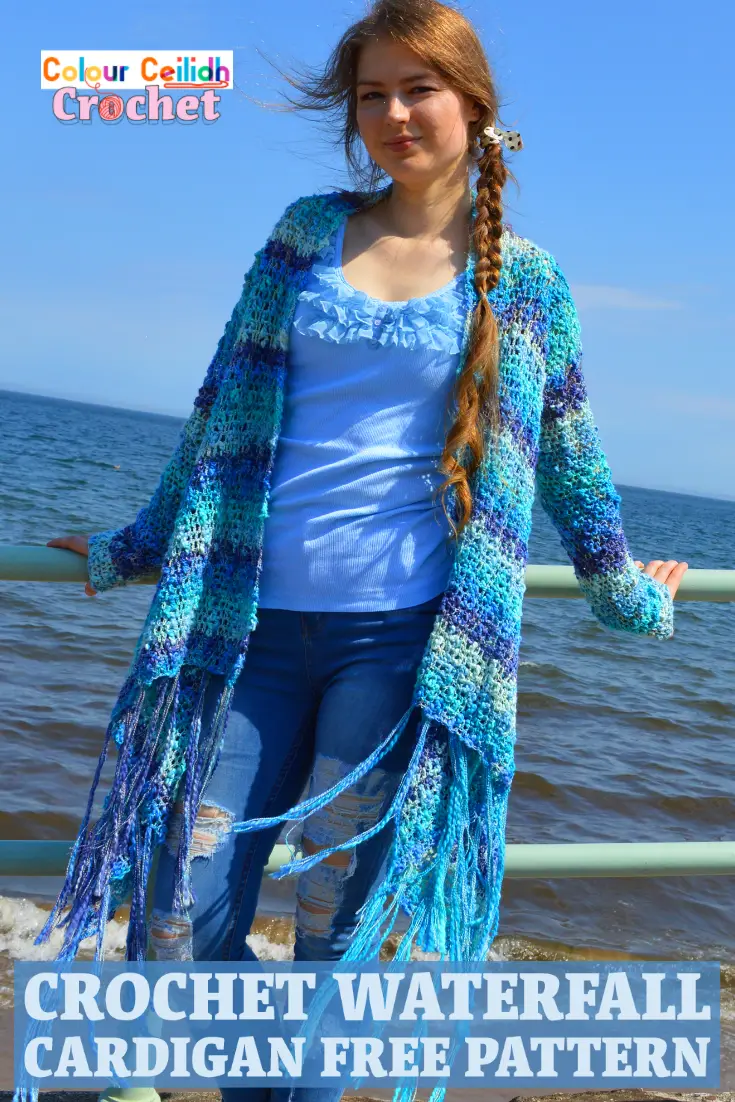 The Design
I wanted to create a waterfall cardigan for a while now and working with a sensual sea themed yarn seemed like a perfect match.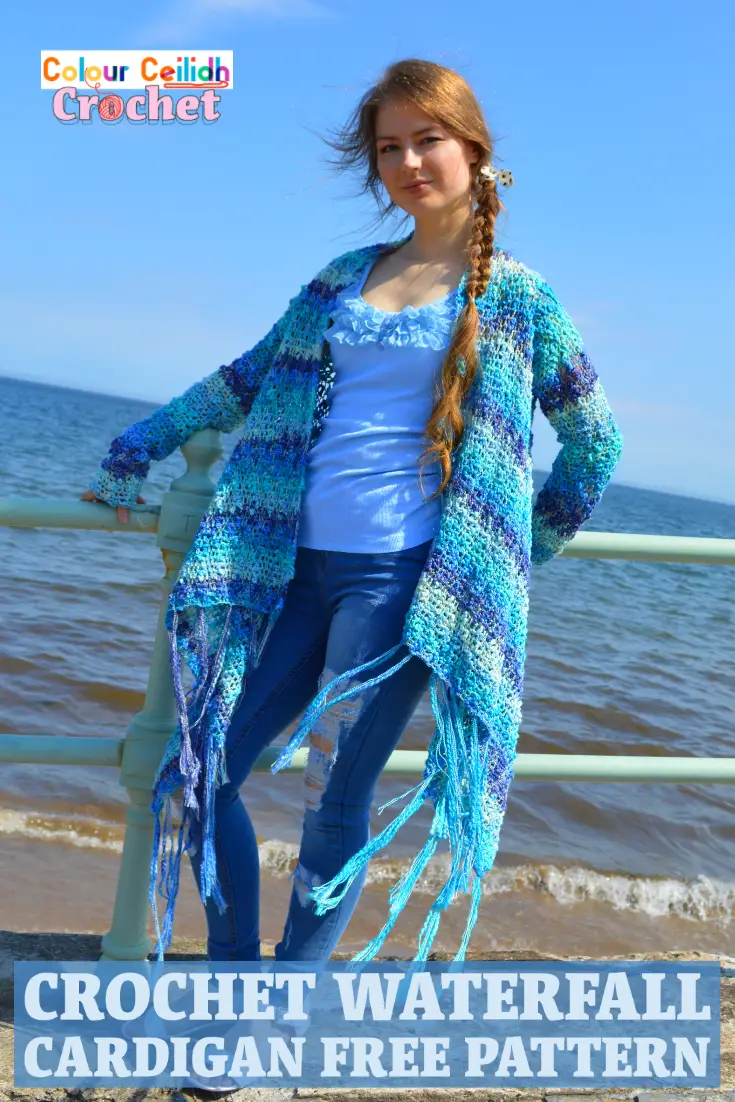 This cardigan really makes a statement with its gorgeous colour and drape complete with long flowy tassels. At the same time, it requires no effort of dressing up as it covers your clothes underneath with its beautiful net like fabric.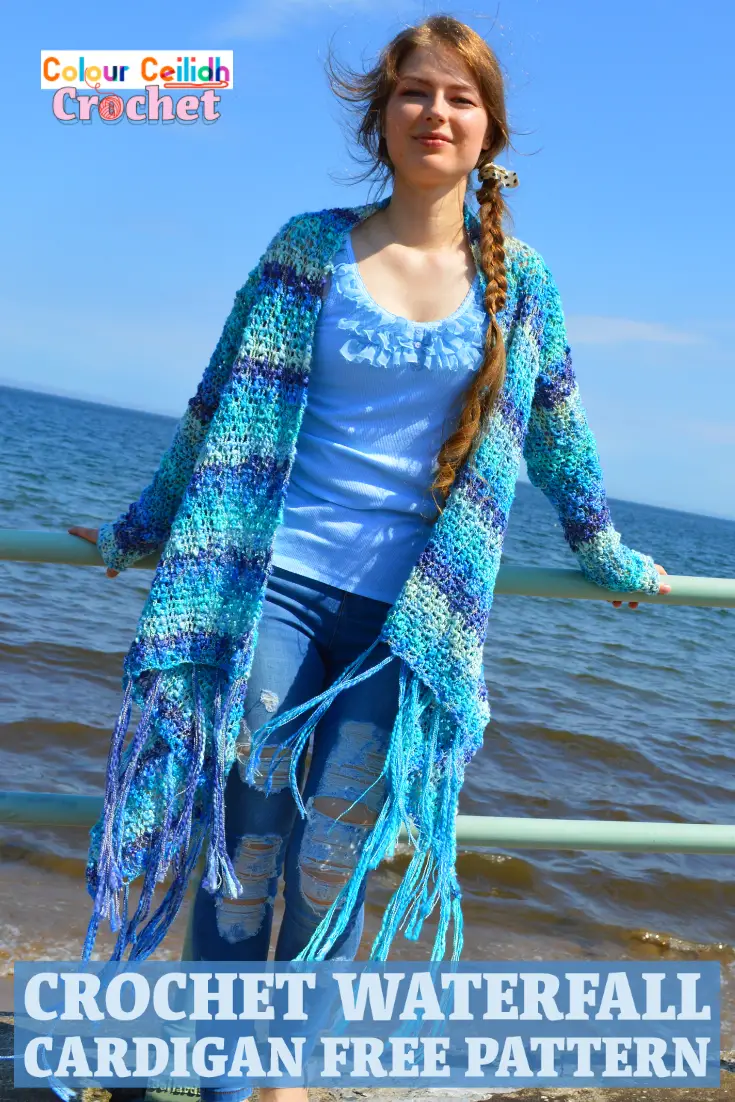 It's also really great for quickly throwing something on so you're out the door fast. That especially comes in handy when I have to get my three kids ready for the day at the beach and make sure I remember everything, which often means I think about myself last. But when I put on this cardigan, I can still look like I've made an effort.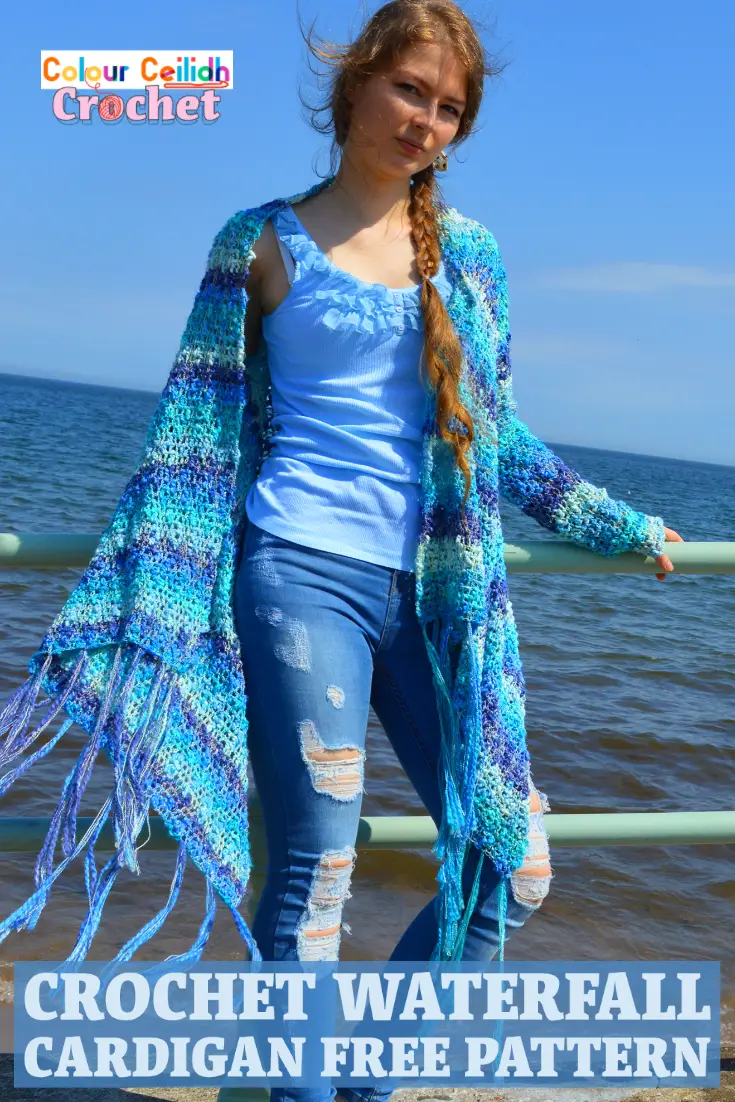 This waterfall cardigan has such a relaxed feel about it, especially when the wind at the sea starts playing with the tassels as you slowly stroll along the beach. In fact, I already feel like I'm at the beach the moment I put it on. It's perfect beachwear and it's great as something to take with you on a holiday.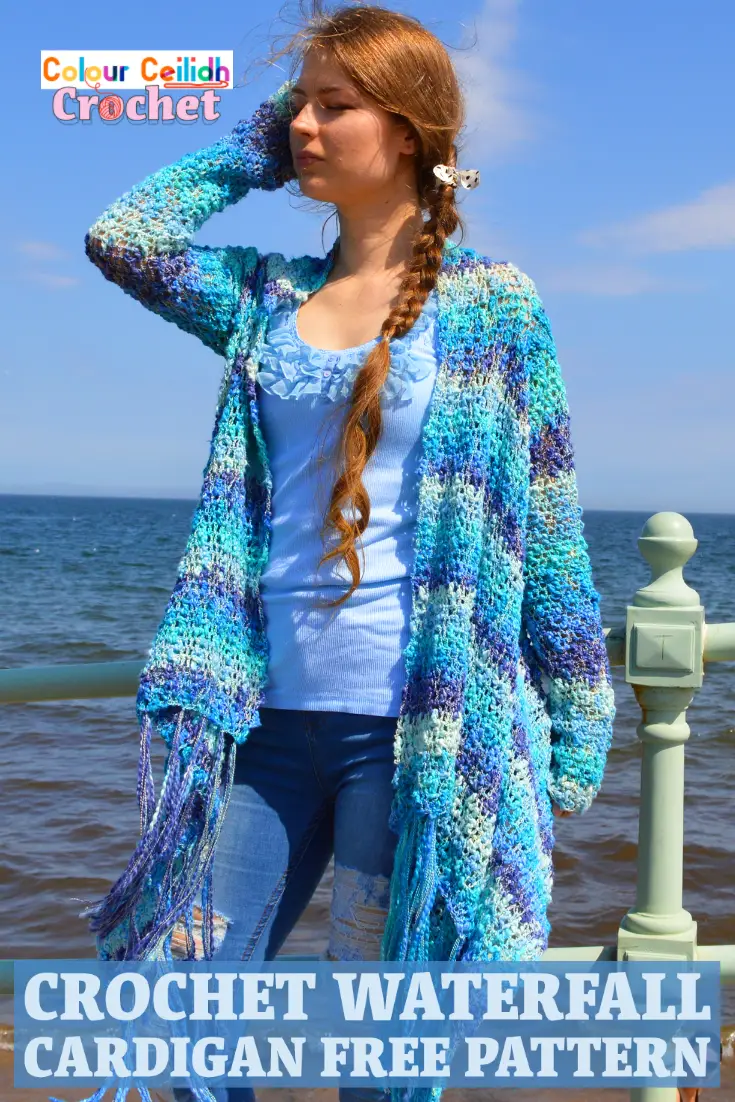 I love the asymmetric hem as it's not only playful and fun but it also draws the eye away from any problematic areas that you might have on your body. And likewise the colorful pattern does the same job too.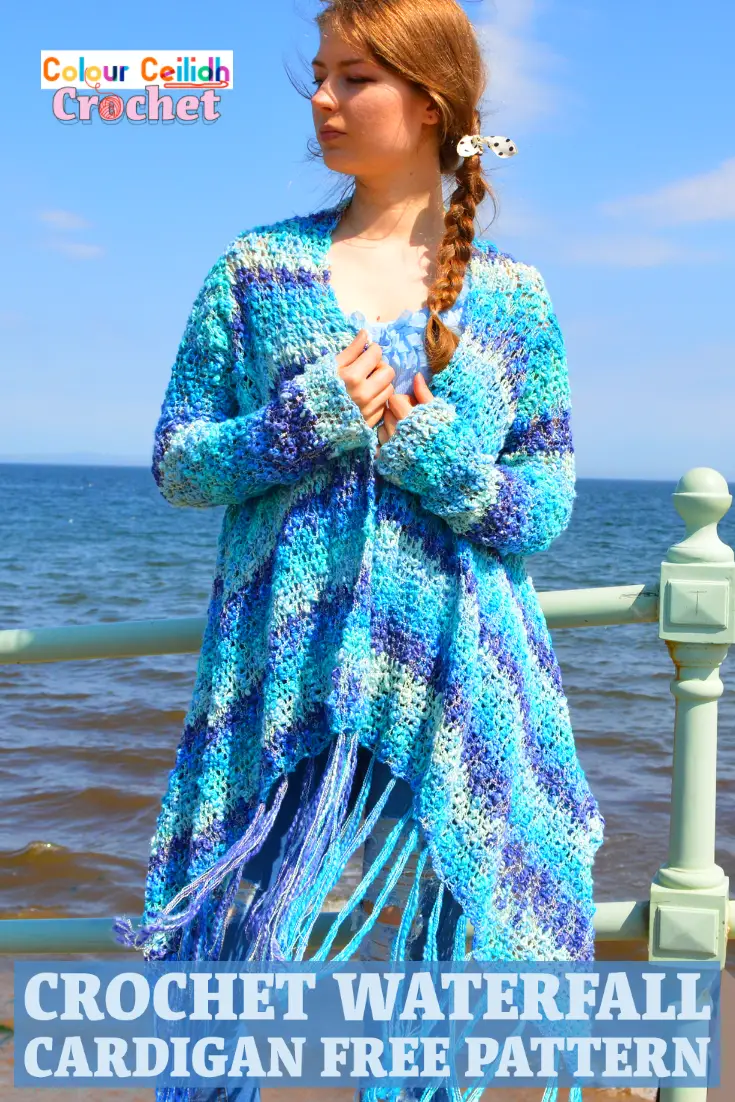 The Stitch
I love working with different textures. I just have to make sure that I use a super simple stitch to fully enjoy crocheting with highly textured yarn like this which is what I'm doing here.
Using just double crochet, this stitch is not only super simple, but it creates a very interesting net look fabric that has a nice drape. Which is what we want for a waterfall style cardigan.
Net like stitch, texture that reminds me of the sea waves, blue ocean colors, waterfall drape… Aaah what a creative experience! It's like I'm weaving the landscape of the sea and wearing it around my shoulders.
Crochet Cardigan Waterfall: Free Pattern
Description
This easy crochet cardigan pattern Waterfall in King Cole Opium Palette is a free pattern and is perfect for a relaxed summer's day at the beach. Using a super simple double crochet stitch, the body is worked in a rectangle and then the sleeves and the tassel fringe are added. The asymmetric hem is playful and fun. Featuring charts and diagrams, a beautiful waterfall drape, a relaxed open front and long flowy tassels, this pattern is fun and easy to make and wear.
Sizes
XS (S, M, L, XL, 2XL, 3XL, 4XL, 5XL)
If you're not sure about your size, I used these body measurements.
Model's height is 5'7 ft and the bust is 34.5″. Model wears size M.
Care Instructions
King Cole Opium Palette is made of 54% cotton, 42% premium acrylic and 4% polyamide and is machine washable at 30 C. Yay!
Wash with similar colors and lie flat to dry.
Shrinkage
I personally hate when clothes shrink after the first wash and it's not just my imagination!
Therefore I thought I would test some fabric samples to see what happens.
And it looks like the fabric shrinks by about 0.5 stitches per 4″ after the first wash.
But bear in mind that the fabric pull might stretch it out again as you wear it because having cotton in the thread makes for a heavier drape.
Pattern Notes
Project difficulty: Easy
You might find that the trickiest part is counting the chains in the foundation chain and making the first row because the yarn is so full of texture and you can sometimes miss a stitch. However once you get there it becomes easier to count the stitches because you're counting the posts which are bigger.
I'd say that if you find yourself having made a mistake, instead of unravelling your work, just add or drop stitches right where you are, even if it's in the base chain, because noone would ever see your mistake on a fabric like this even if you pinpointed it. It's so busy it's super forgiving and the drape is heavy enough too to pull on and even out your mistake right away.
To connect new yarn I used the

no tails crochet color change method

as I like how secure it is.
The long sequence of numbers in the pattern refer to the 9 sizes available: XS (S, M, L, XL, 2XL, 3XL, 4XL, 5XL). The numbers after the first are in brackets and separated by commas to help you follow your size instructions a little easier.
When you make your sleeves, you might want to leave long yarn tails to use them for seaming. Leave the yarn tail approx 4X the length of the seam.
Additional suggestion for purchasing the yarn: Deramores US store.
Finished Measurements, Chart & Diagram
The cardigan is quite stretchy, hence the minimum measurement references.
Approx. cardigan length including tassels 50″.
Turning chain counts as a stitch, so count the number of posts in every row for the stitch count.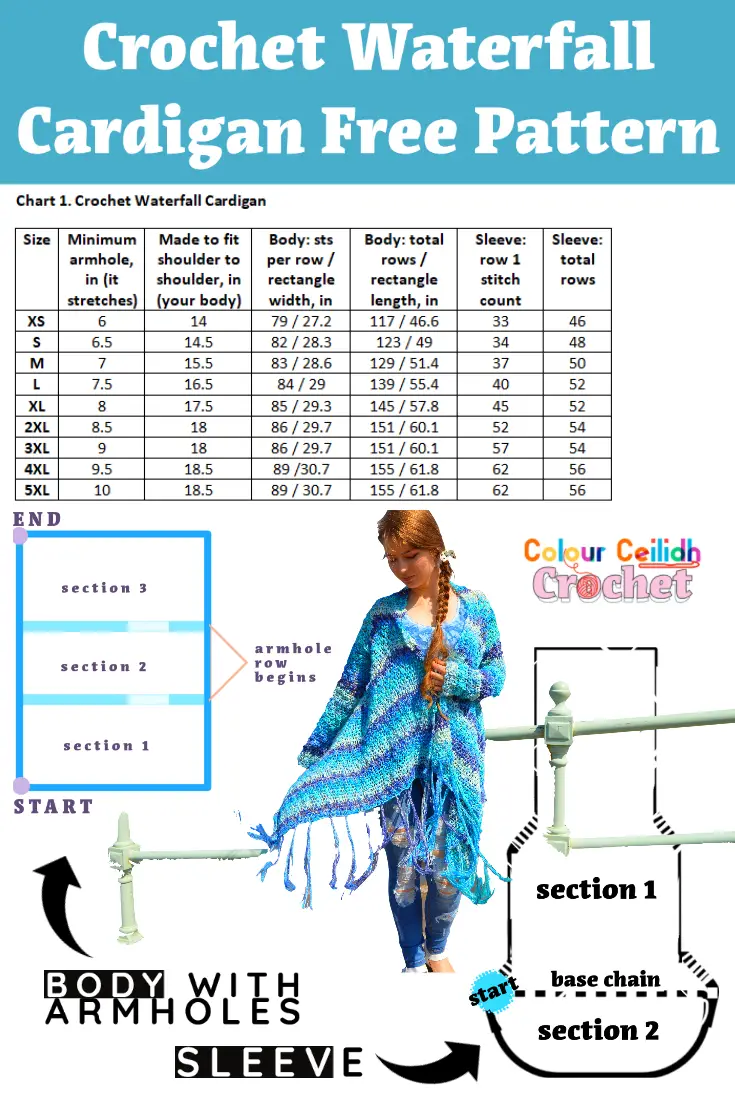 Materials
Gauge
The following are the approximate numbers of double crochet posts and rows per 4″ X 4″ square measured over the fabric as per pattern: 11.6 sts and 10 rows.
To crochet your gauge sample, chain any number of sts + 3.
Abbreviations (US Terms)
base chain: foundation chain
ch: chain
dc: double crochet
rep: repeat
st: stitch
t: turn
Pattern Overview
Make the body with two armholes.
Make 2 sleeves. Seam the sides of the sleeves and seam the sleeves into the armholes of the body with the mattress stitch.
Make the tassel fringe.
Pattern
The pattern is broken into the Body, Sleeves and Tassel Fringe. The following are the pattern repeats used throughout:
Pattern first row after chaining the base chain: Dc into 4th ch from hook (counts as 2 dcs), dc in every st, t.
Pattern row: Ch 3 (counts as dc), dc in every space between dcs (that includes the same space or the space between first and second dcs), t.
Armhole row: Ch 3 (counts as dc), dc in every space between dcs 14 (15, 16, 17, 18, 19, 19, 19, 19) times, ch 19 (20, 21, 23, 24, 26, 27, 29, 30), skip 18 (19, 20, 22, 23, 25, 26, 28, 29) spaces, dc in next space and every space between dcs to complete the row, t.
Sleeve decreasing row: Skip crocheting into the same space and the next space at the beginning of the row, complete the row as normal, t. (You're losing 2 sts per each sleeve decreasing row)
Body
Ch 81 (84, 85, 86, 87, 88, 88, 91, 91).
Section 1: Make pattern first row and rep pattern row until you have 42 (44, 46, 50, 52, 54, 54, 56, 56) rows in total.
Make armhole row.
Section 2: Make 31 (33, 35, 37, 39, 41, 41, 41, 41) more rows. (In the first row after armhole row ch 3, dc in every space and every ch.)
Rep armhole row.
Section 3: Rep pattern row to add 42 (44, 46, 50, 52, 54, 54, 56, 56) more rows (in the first row after armhole row ch 3, dc in every space and every ch), fasten off.
Easy Sleeve Shaping
The sleeves are designed so you only need to make simple decreases which are very satisfying because you complete the row faster each time you decrease. So you start to even look forward to it. No increasing needed and yet we have a very pretty and appropriate sleeve shape.
Each sleeve is broken into section 1 and section 2.
Sleeves – Make 2
Section 1
Ch 35 (36, 39, 42, 47, 54, 59, 64, 64).
Make pattern first row, then make 2 (2, 2, 2, 2, 3, 3, 3, 3) sleeve decreasing rows.
Add 15 (16, 17, 18, 18, 18, 18, 18, 18) more pattern rows.
Rep sleeve decreasing rows 2 (2, 2, 2, 2, 3, 3, 3, 3) more times.
Add 26 (27, 28, 29, 29, 29, 29, 31, 31) more pattern rows, fasten off.
Section 2
Turn your sleeve around and crochet into the spaces under the base chain. Make 10 sleeve decreasing rows, fasten off.
Tassel Fringe
Cut 3 strands of 23.5 " in length, fold them in half, pull the loop through a gap between double crochet posts using your fingers or a crochet hook and pull the tails through the loop to secure your tassel in place.
More details and a tutorial about how to make a tassel fringe is in my granny square scarf pattern called Crocus, just scroll down to the bottom to find the photo tutorial.
For example, I made 15 tassels separated by 5 gaps on average on each side for a size M cardigan.
The fringe works out approx. 11″ long.
More Ideas
Here are some more free patterns for similar style asymmetric, flowy and relaxed crochet cardigans. Cascading Kimono Cardigan Crochet Pattern by Mama In A Stitch, Lotus Mandala Duster by Morale Fiber, Sea Glass jacket and A Flair for Spring by Drops Design and this blanket cardigan Navajo Inspired Blanket Cardigan by Stardust Gold Crochet.
Besides this crochet waterfall cardigan free pattern I also have a belted crochet cardigan Heather.
Well Done!
I hope you enjoyed this free pattern for my crochet Waterfall cardigan.
If you did, please share the link to this post with your friends, subscribe to my email list (the form pops up when you click around or come back again), Pin your favourite image by hovering over it and follow me on Pinterest so you never miss a pin, like my Facebook page and follow me on Instagram to see behind the scenes and for more color in your life.
Happy crocheting!
Justina