This crochet tunic dress pattern with sleeves is a simple rectangle seamed at the sides and shoulders. Because it's a mini crochet tunic dress, it can be worn on a windy summer's day or layered over a pair of jeans in autumn. Scroll down for the free pattern, the diagram and the chart.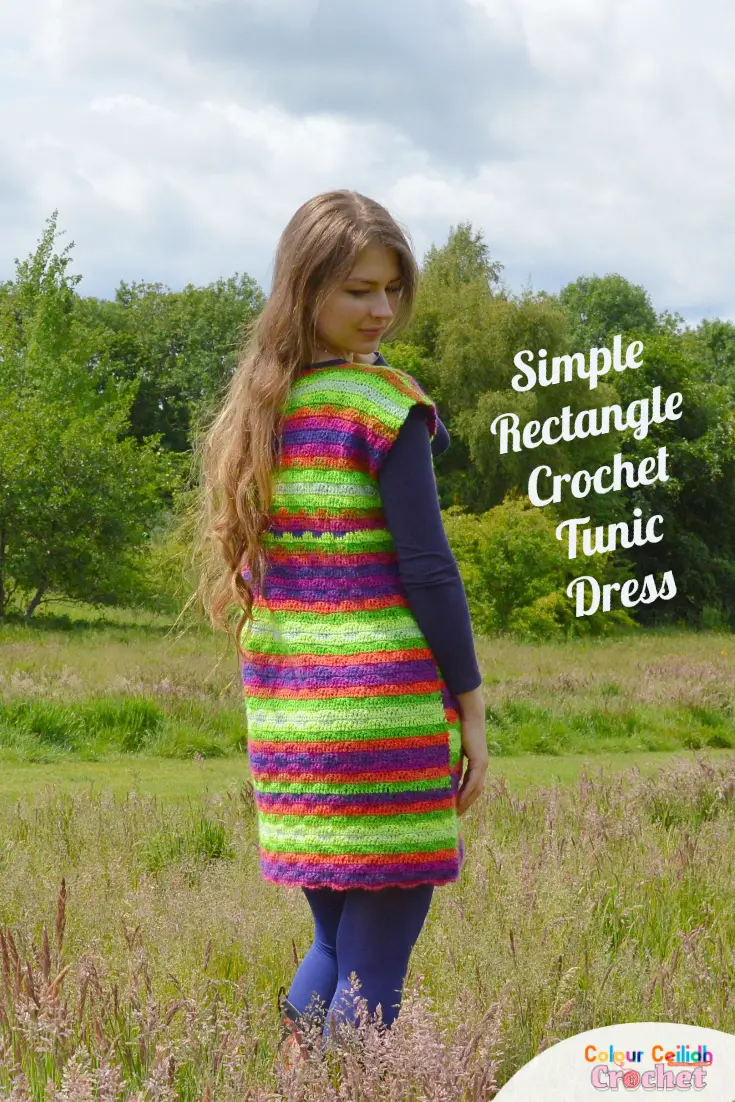 This post contains affiliate links to products. I may receive a commission for purchases made through these links.
Made with the self-striping yarn King Cole Riot DK in Neon, I thought I'd call my tunic dress the Neon Sunset.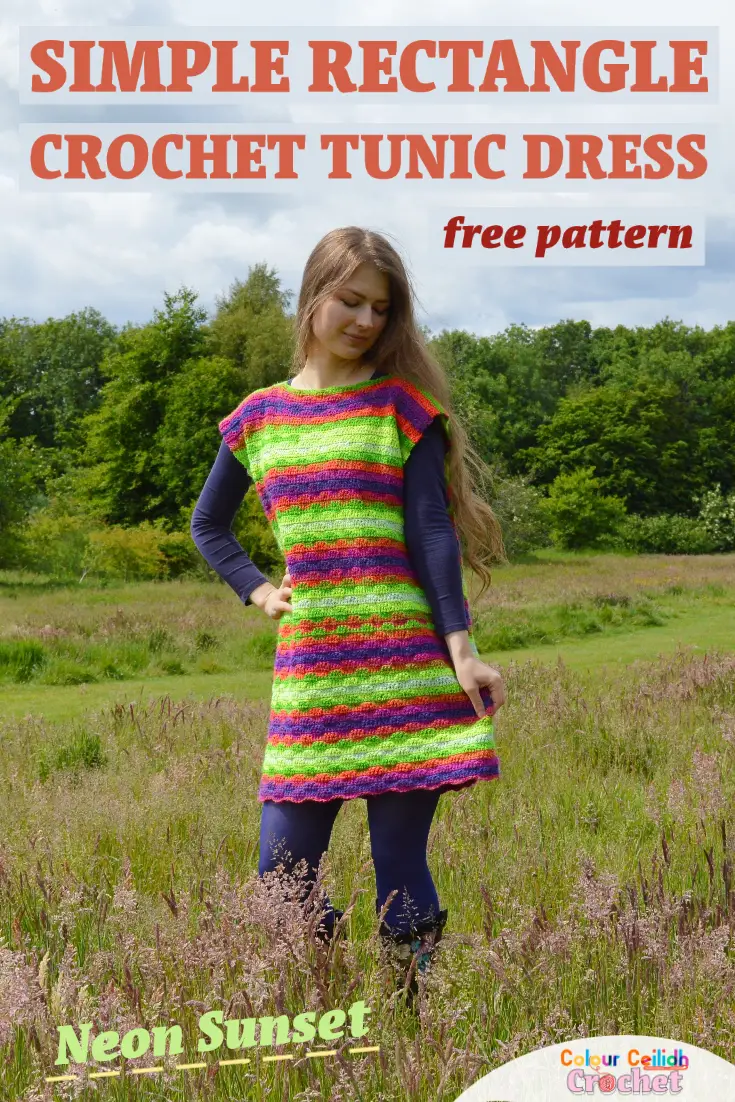 This easy beginner crochet tunic dress only uses single and double crochet stitches to create a subtle wavy stitch pattern called the smooth wave stitch.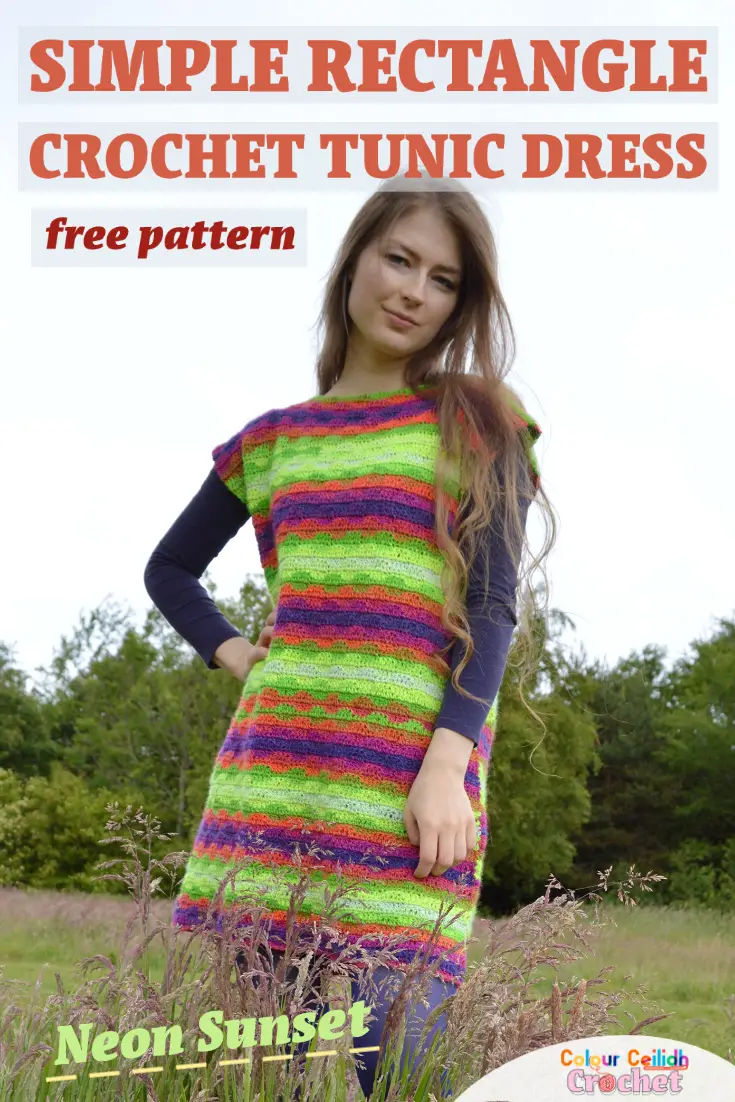 The waves add some interest and texture to your usual stripes and this stitch is very soothing to make as you count 1, 2, 3, 4, 1, 2, 3, 4…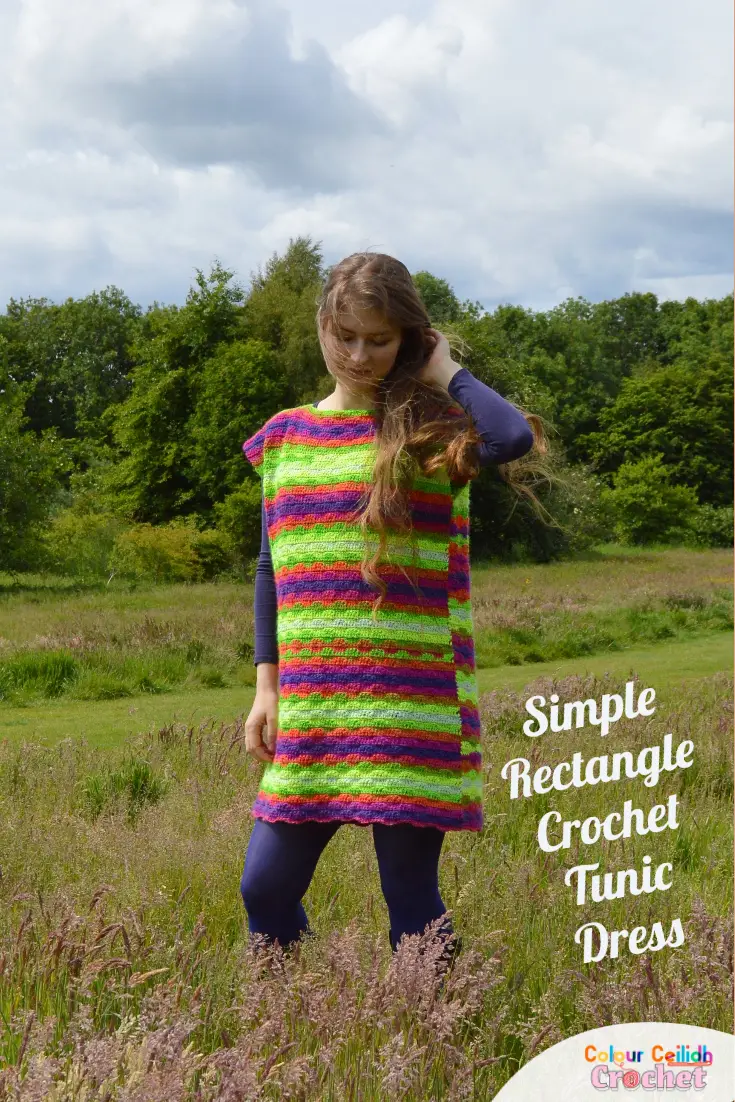 I love the super simple shape of this crochet tunic which looks great as is or you could choose to belt it too. I love how it frames my shoulders and creates loose fitting comfortable sleeves without even trying.
It's loose, comfortable and colorful – what more does a girl want!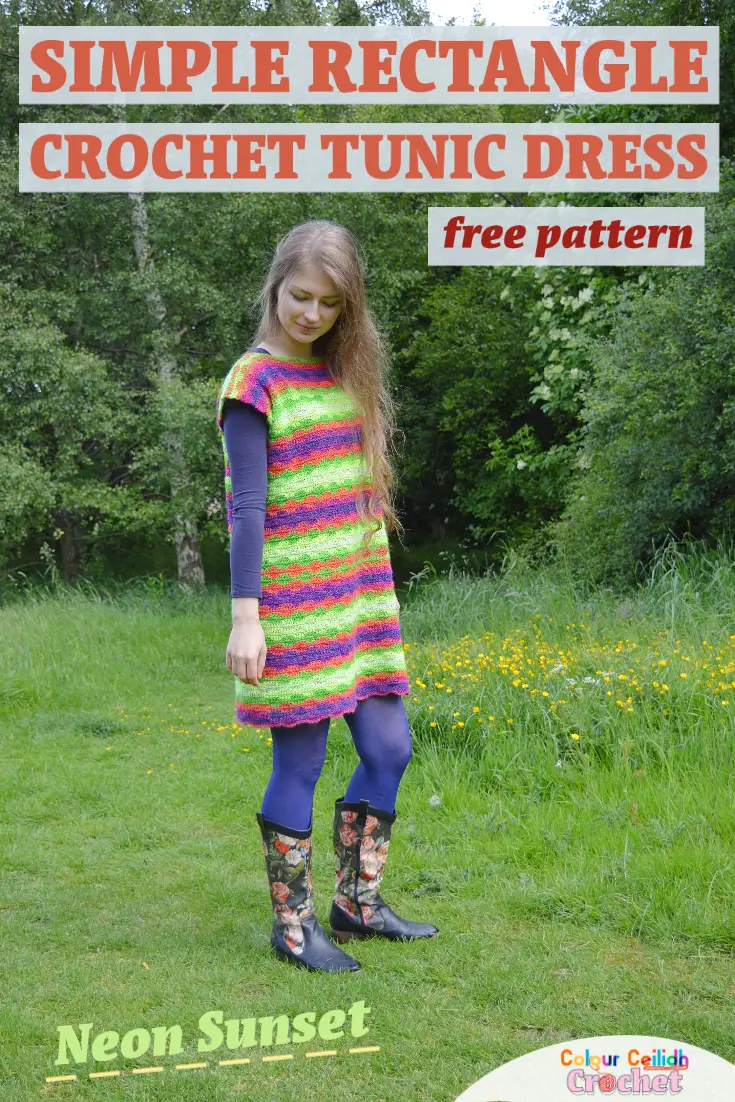 Smooth Wave Stitch
The smooth wave stitch makes for satisfying stiches per row counting as stitches are grouped into 4, so you just count the groups and multiply by 4. Although most of the time you'll know without counting the whole row because you just need to check that the last group of 4 has 4 in it as you end the row. What is more, if you make a mistake mid-row, you'll notice straight away, as the stitches will not lign up. That is because the previous row promps you for what stitches go where, so it's great for retiring your mind from thinking and just giving in to the waves. Pair it with some nature relaxation videos on YouTube and watch them via your TV's big screen if you can. Bliss…
Simple Rectangle Crochet Tunic Dress Free Pattern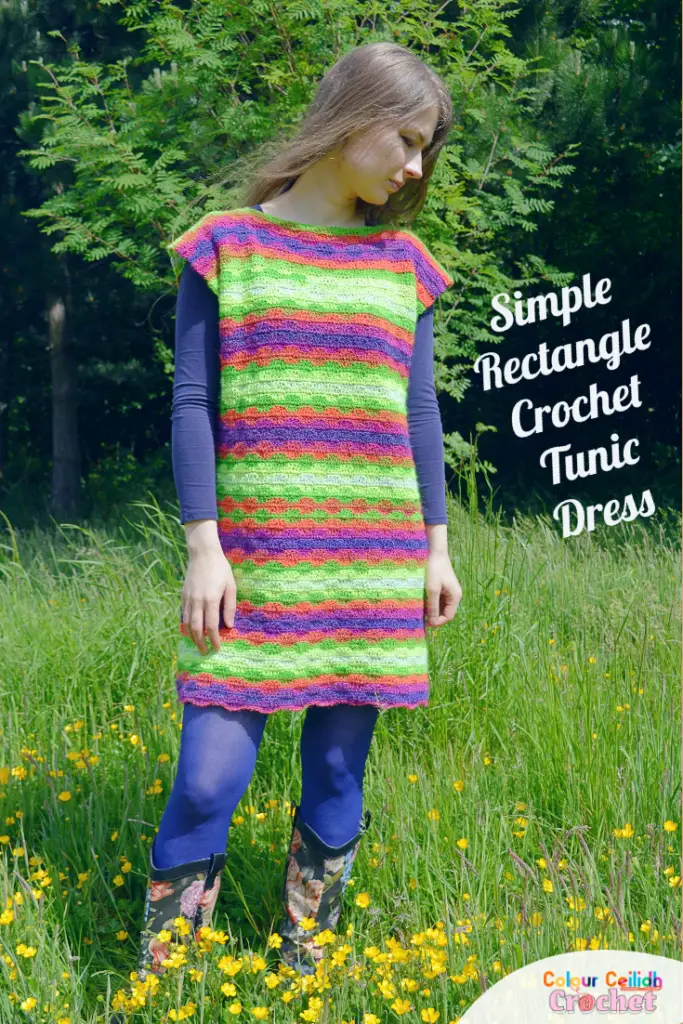 Description
This simple and easy beginner rectangle crochet tunic dress Neon Sunset in King Cole Riot DK only uses two types of stitches, single and double crochet, to create a gentle and dreamy wavy stripes pattern which softens up the lines and adds some interest as the color of the yarn gradually changes. This stitch is called the smooth wave stitch which is fun and soothing to make too! This tunic dress is made of two rectangles seamed together at the sides and shoulders with the mattress stitch (which is like lacing the shoe laces). There is no border and no other pieces to make. Wear it as is or belt it and layer it over some jeans or leggings.
Sizes
XS (S, M, L, XL, 2XL, 3XL, 4XL, 5XL)
If you're not sure about your size, I used these body measurements.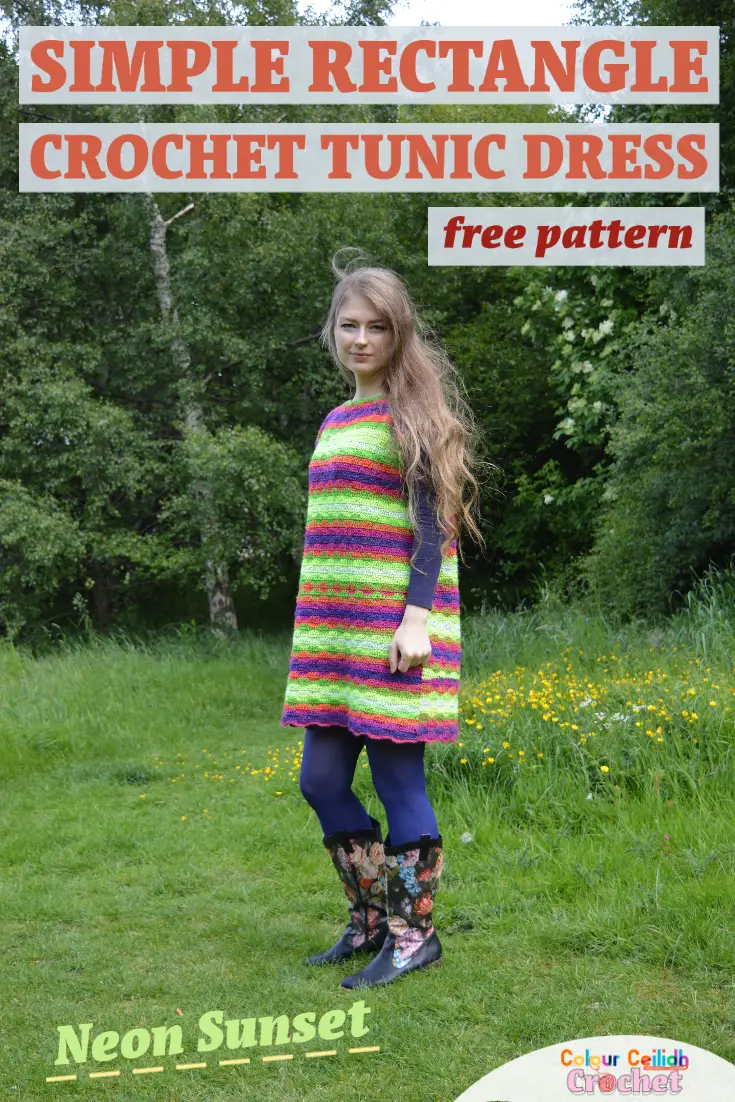 Care Instructions
The yarn label says it's 70% acrylic and 30% wool and the washing temperature is 40 C.
When I washed my sample in my usual cycle at 40 C, it formed white fluff, so I wouldn't recommend following the care instructions on the label.
I don't have a wool cycle setting on my washing machine and my handwash setting uses 40 C temperature which is too high so I washed it in delicates washing cycle for 1 hr 14 min at 30 C with a 1200 spin speed and no fluff formed.
Lie flat to dry.
The shrinkage after the first wash is about 0.5 stitches per 4 in.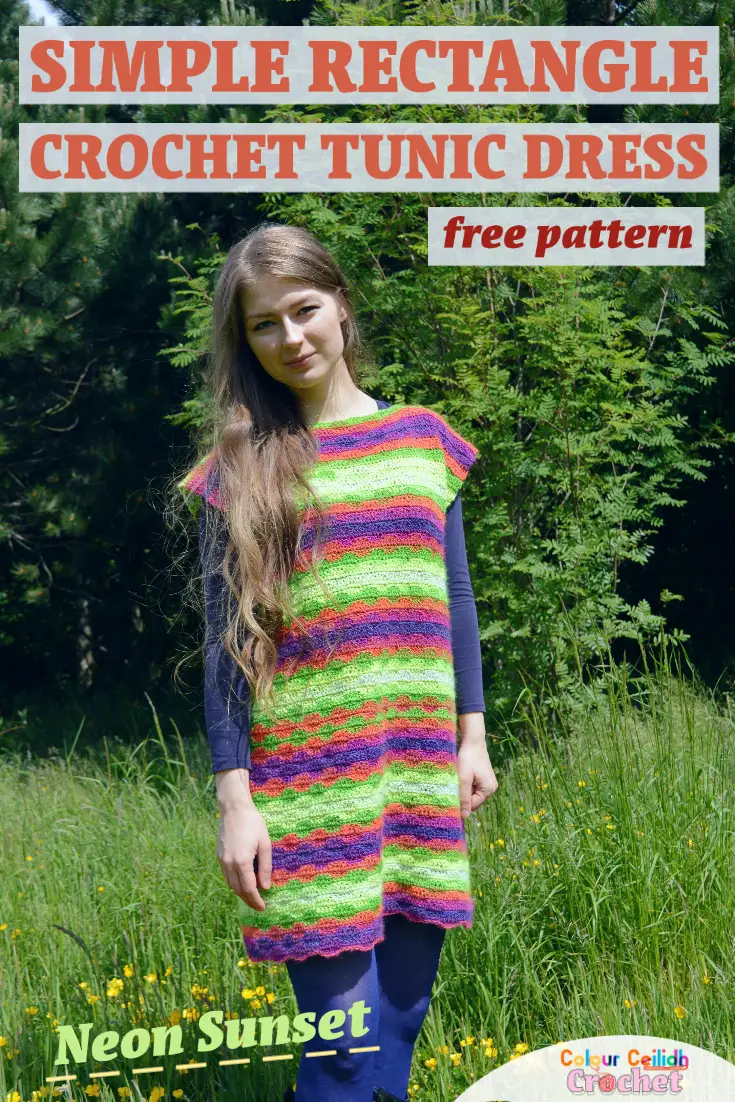 Pattern Notes
Project level: easy
For blocking I hovered a steam iron over the garment at about an inch's distance a few times and let it dry flat on a towel.
Join seams using the mattress stitch which is like lacing the shoes but with only one shoe lace.
The turning chain doesn't count for "stitches per row" number on the chart.
The smooth wave stitch is a multiple of 8 sts + 4 (add 1 for base chain).
To join new skein of yarn, to connect broken yarn or to fix an ugly random knot you found in the middle of your skein, even if it's the middle of the row, I use the discreet magic knot. (3:21 – 4:45 min in my video How To Change Color In Crochet (With No Tails)).
Easily alter the length of your tunic dress by ending with an uneven number of rows for a smooth finish (literally).
The long sequence of numbers in the pattern refer to the 9 sizes available: XS (S, M, L, XL, 2XL, 3XL, 4XL, 5XL). The numbers after the first are in brackets and separated by commas to help you follow your size instructions a little easier.
Because I don't skip the first st (I crochet into the first st) and I don't count the turning chain as a st, there are no gaps and the edges look fuller and more even, which means they're pretty enough on their own and the sleeves don't need a border.
Finished Measurements, Chart & Diagram
The measurements are in inches (in), stitches or rows and of the garment and not your body.
To make sure that the size fits your body, go by the widest measurement of your body. For example, I am pear-shaped, so I need to make sure the bust/hips measurement is larger than my hips.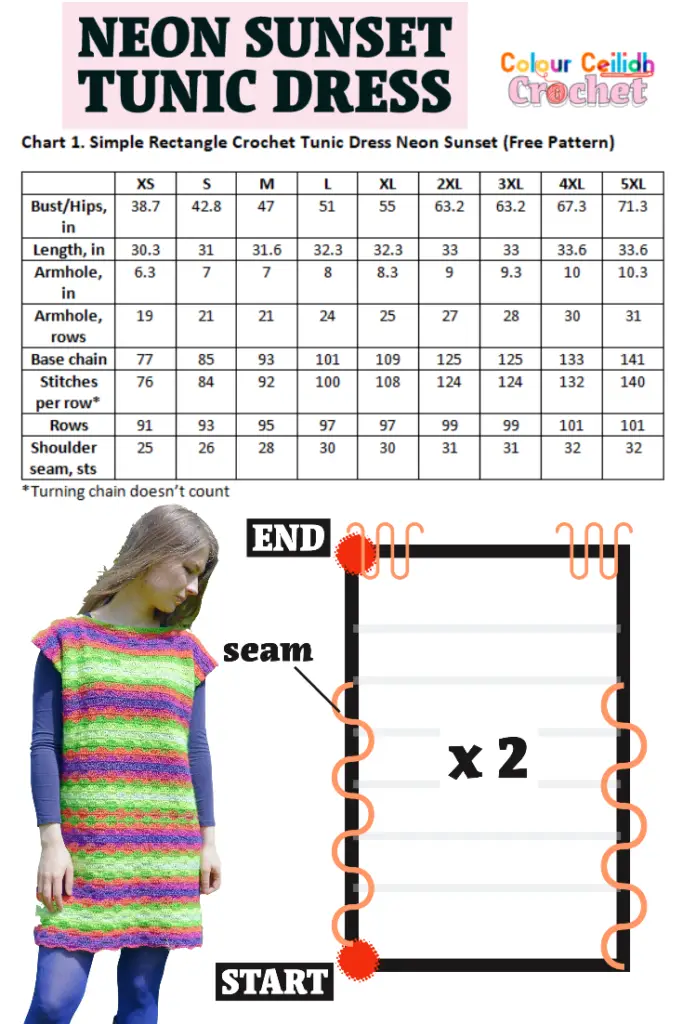 Materials
King Cole Riot DK * (weight: 3 / light, 324 yds / 294 m, 3.5 oz / 100 g) 4 (5, 5, 6, 6, 7, 7, 8, 8) skeins in Neon
Size H / 5 mm crochet hook
Tapestry needle
Measuring tape
Scissors
*Sometimes shops run out of yarn. If that happens, an alternative to Love Crafts (links above) is King Cole Riot DK from Deramores. I like both of these shops and I shop there regularly. (In fact, I shop in quite a few yarn shops regularly!) Thank you for clicking on these links (I get a small commission from your purchase) – it goes a long way to support my blog!
Gauge
The gauge is measured over the smooth wave stitch as per pattern.
Before washing: approx 15.7 sts and 12 rows in 4 in, after washing: approx 16.2 sts and 12 rows in 4 in.
Abbreviations (US Terms)
base chain: foundation chain
ch: chain
dc: double crochet
rep: repeat
sc: single crochet
st: stitch
t: turn
Pattern Overview
Make 2 rectangles in your size.
Seam the sides and shoulders according to the chart or written pattern with the mattress stitch with the right sides facing you, weave in ends.
Pattern
Make 2 rectangles in your size.
Ch 77 (85, 93, 101, 109, 125, 125, 133, 141).
(Your stitches per row count is your foundation chain you just made minus 1)
Row1 Sc into 2nd ch from hook, sc in next 3 st, *dc in next 4 st, sc in next 4 st; rep from * across, t.
Row2 Ch 1, sc in same st, sc in next 3 st, *dc in next 4 st, sc in next 4 st; rep from * across, t.
Row3 Ch 3, dc in same st, dc in next 3 st, *sc in next 4 st, dc in next 4 st; rep from * across, t.
Row4 Rep Row3.
Rows 5 & 6 Rep Row2.
Rep Rows 3 – 6 until you reach the required number of rows for your length, see Chart 1.
With right sides facing you, seam the sides leaving the required number of rows or inches for armholes.
Seam the shoulders using the number of stitches from the chart.
Well done!
I really appreciate you visiting here, so a big thank you!
If you enjoyed my free pattern for this simple rectangle crochet tunic dress, please share the link to this post with your friends, subscribe to my email list (the form pops up when you click around or come back again), Pin your favourite image by hovering over it and follow me on Pinterest so you never miss a pin, like my Facebook page and follow me on Instagram to see behind the scenes and for more color in your life.
Happy Crocheting!
Justina