It's spring time, and I really craved to see some crochet daisy granny squares on the internet. What I saw was some beautiful and colourful work, but what I really wanted to see was simple and plain, life-like yet easy and practical crochet daisy granny squares, and that is where my simple puff daisy granny square comes in.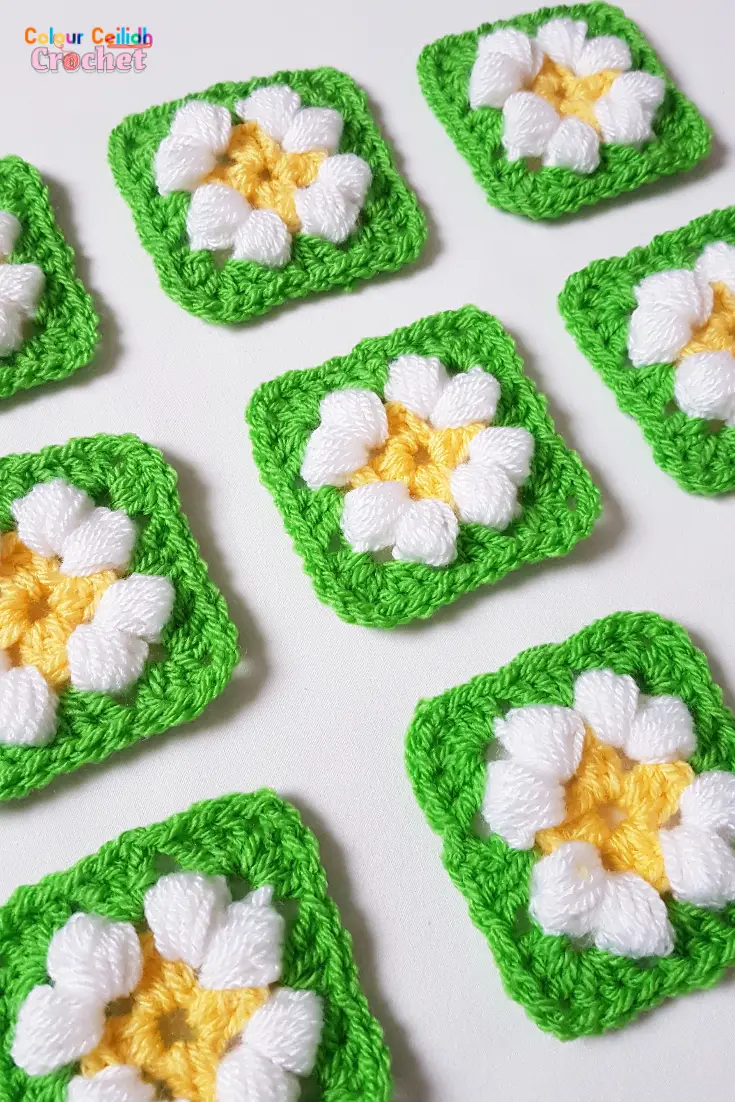 This post contains affiliate links to products. I may receive a commission for purchases made through these links.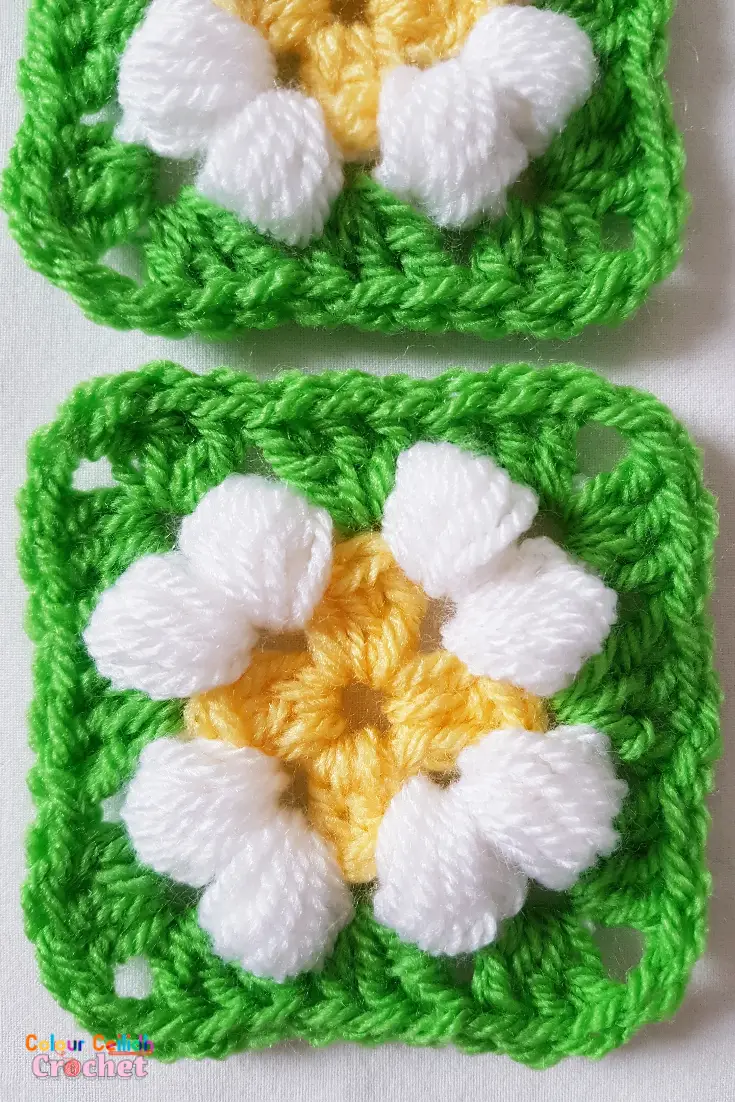 These simple puff daisy granny squares were a joy to create and re-create again!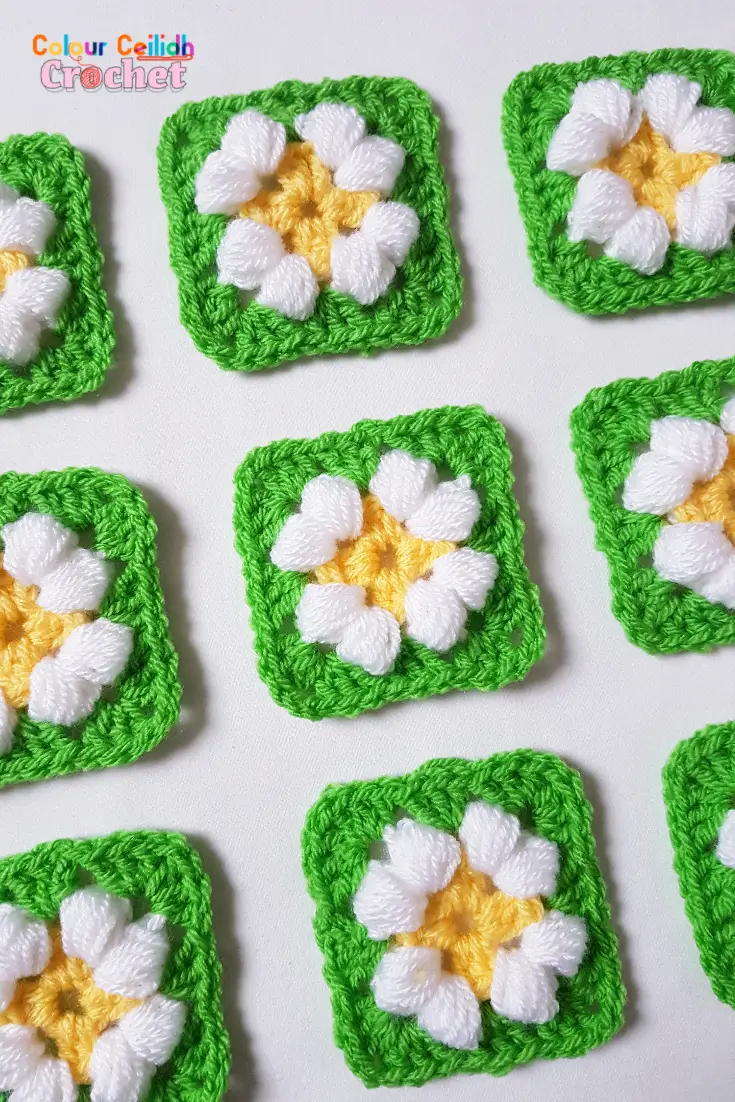 I say "life-like" but really I think that the world could definitely do with more colour! And here they were, my beautiful puff daisy granny squares stepped right out of my imagination after a few hours of playing with yarn and they are exactly what I had in mind. This is a free crochet pattern for you to enjoy.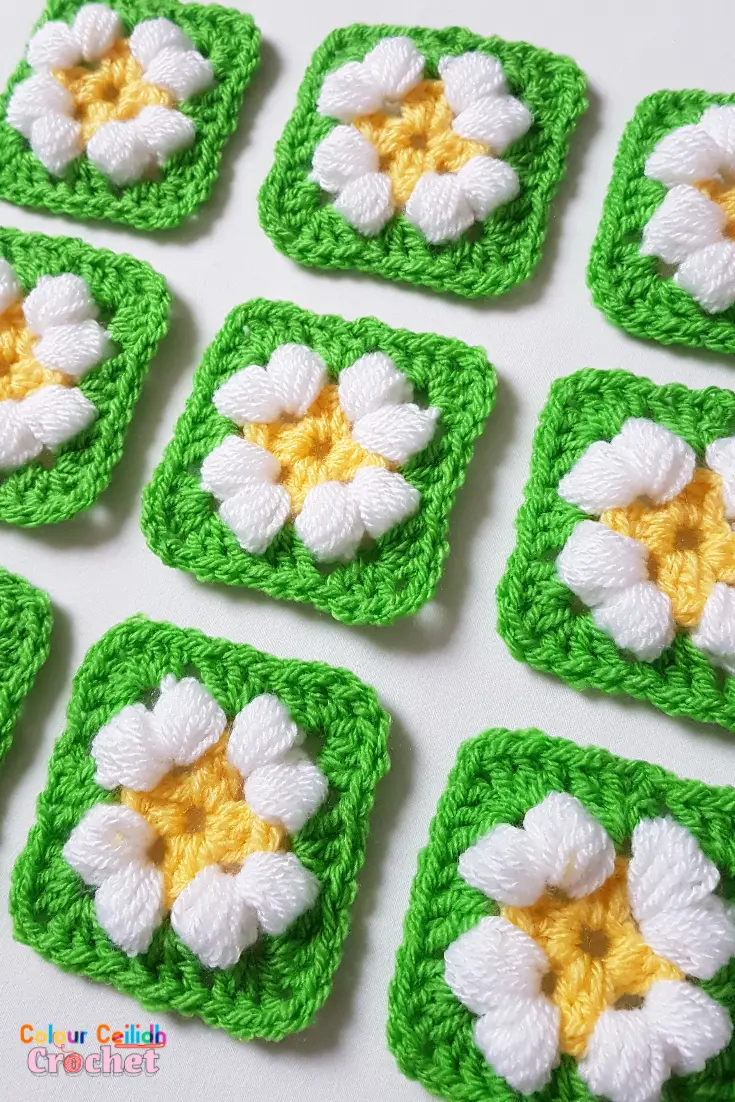 Aah there's something about daisies, simplicity and these colours… They all just go together so well. So relaxing to make too… As crochet is in general 🙂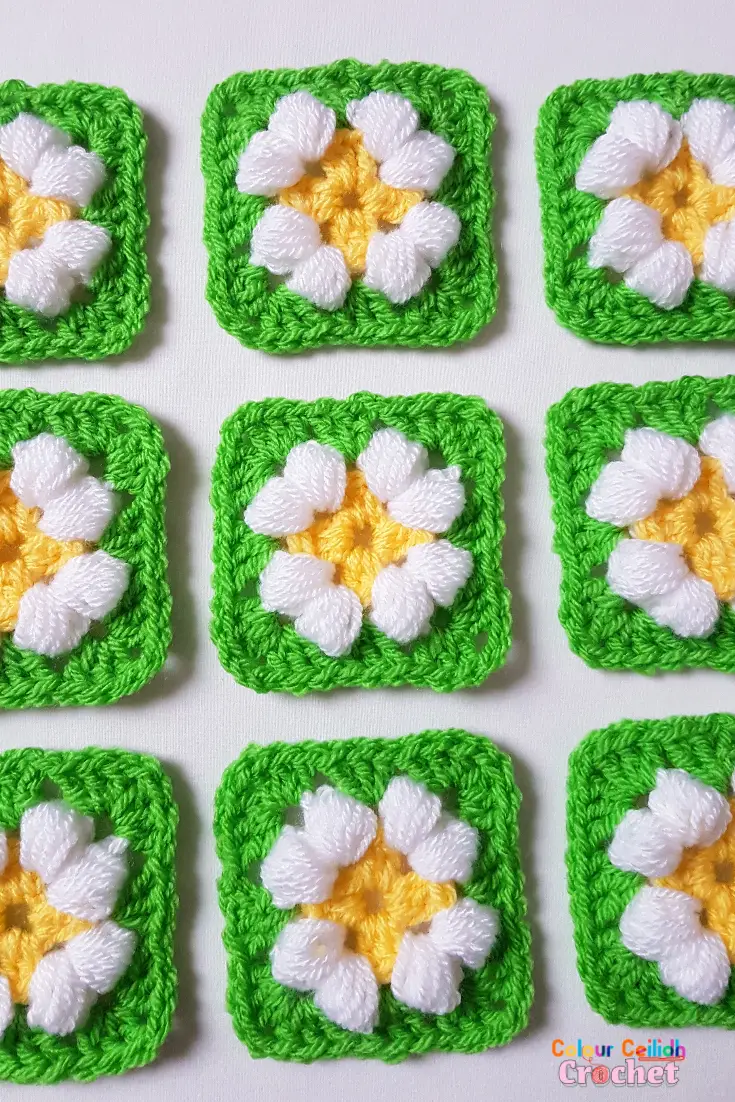 Gauge & Pattern Notes
The puff daisy granny squares measure about 7.5 cm / 2.9 in in diameter.
For more details about joining the yarn after fastening off in the previous row or how to make the puff stitch, click here and scroll down to the handy photo tutorial titled "Joining New Yarn With A Slip Stitch & Joining Granny Squares With The Puff Stitch".
I also have another tutorial called "The Crochet Slip Stitch Method" that you can scroll down to within this blog post called Crochet Blanket Candy Cane Lane.
UPDATE: Here's how I change yarn color now, so that there are no tails to weave in between rounds. If you use this method, you might not need to use the slip stitch join. Check out my tutorial How To Change Yarn Color In Crochet With No Tails!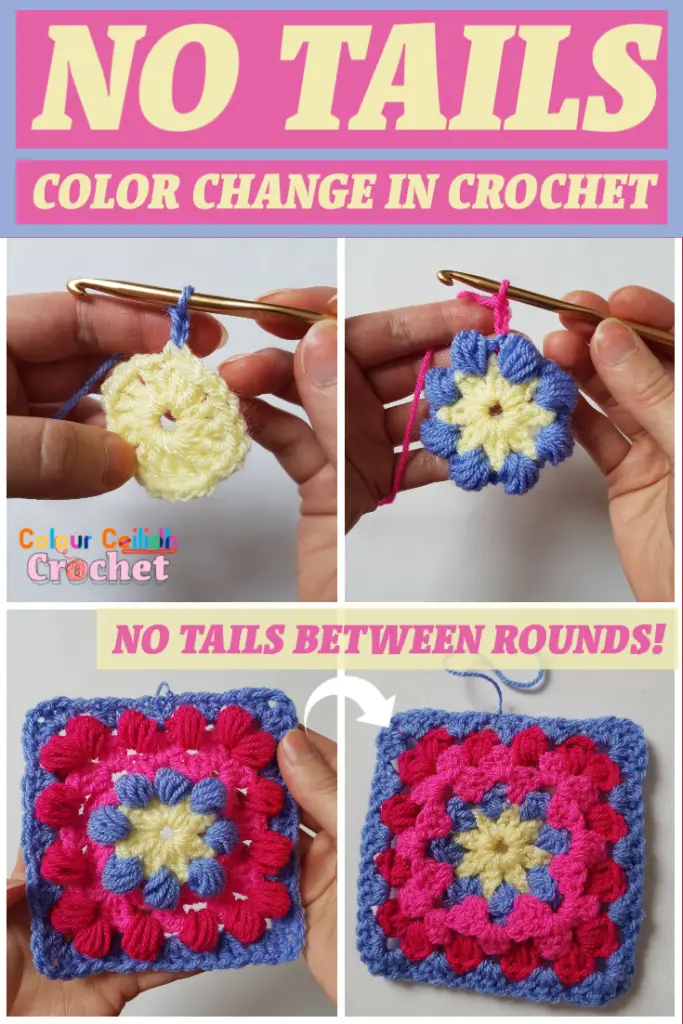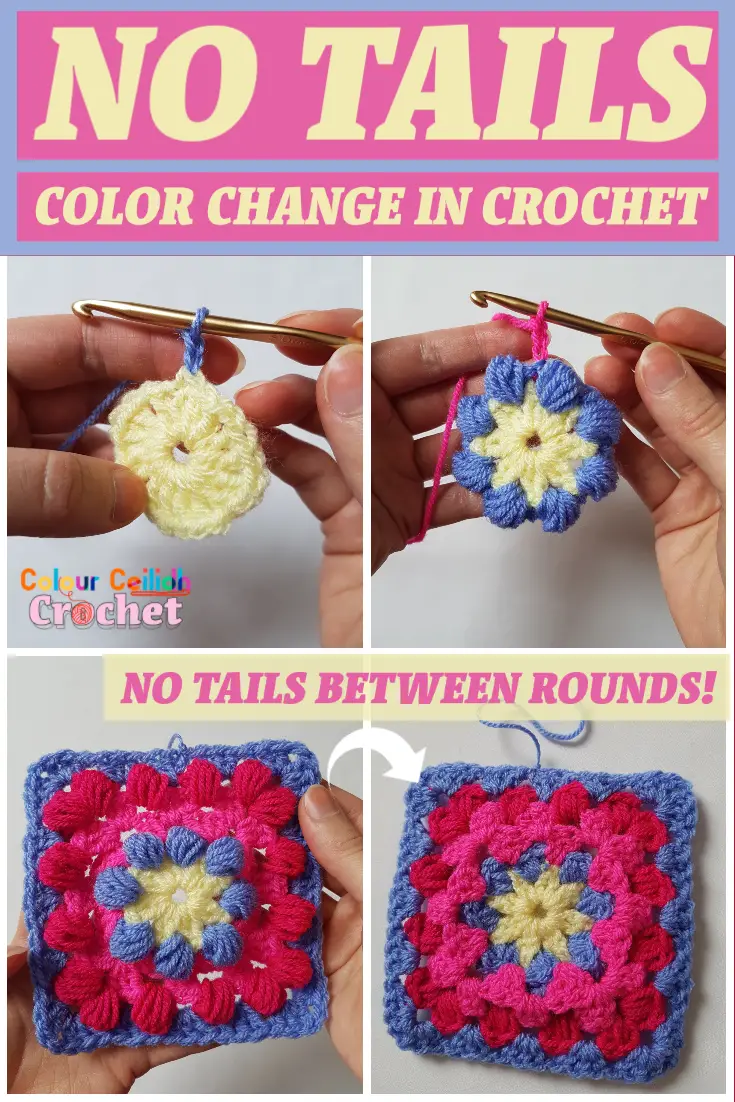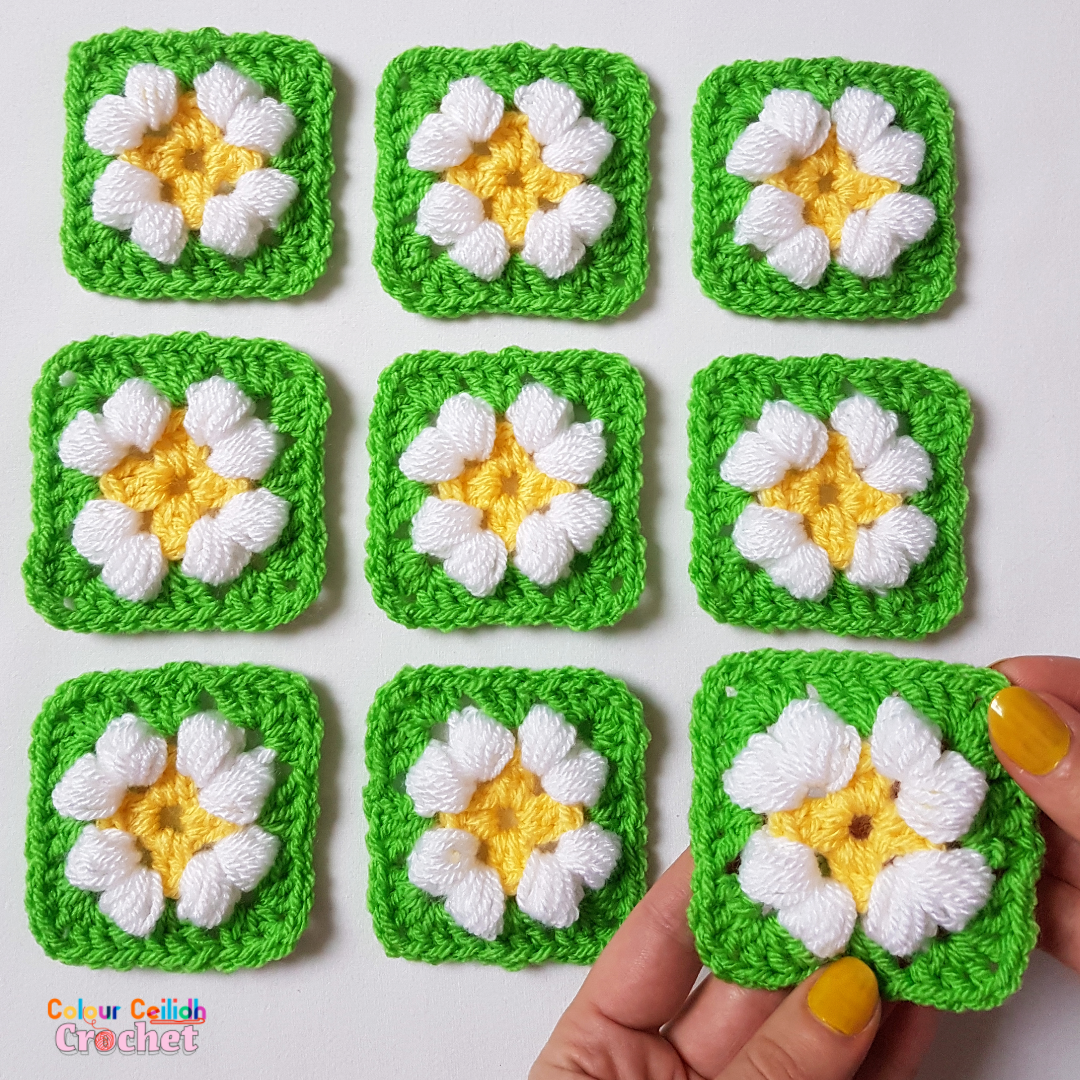 Materials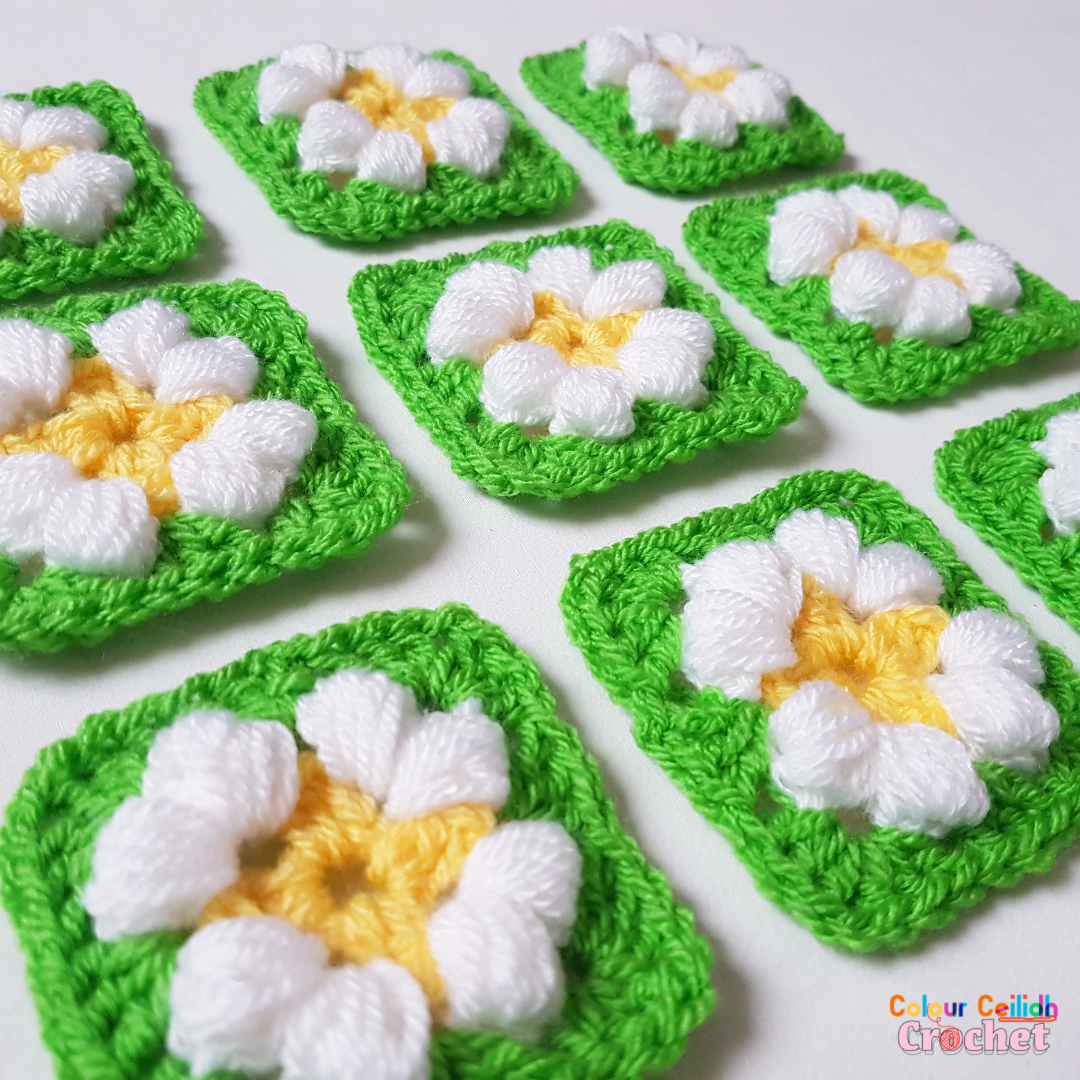 Abbreviations
ch: chain
dc: double crochet
hdc: half double crochet
hdc5tog (puff stitch): half double crochet 5 together. [Yarn over, insert hook into indicated stitch/ space, draw up a loop (stretch it to at least hdc height)] five times, yarn over, draw yarn through all 11 loops on hook
rep: repeat
rnd: round
sc: single crochet
sl: slip
slip stitch join: with the new colour yarn make a slip knot on your hook, insert the hook into the indicated stitch/space, yarn over, draw up a loop and pull through the slip knot. You've just joined a new colour. Continue as per pattern, for example, ch 3 etc. Check out my tutorial How To Join New Yarn With A Slip Stitch.
st: stitch
t: turn
yo: yarn over
Simple Puff Daisy Granny Square
With Citron, begin with ch 5, sl st to ch-1 to form a ring.
Rnd1 (Citron) Ch 3 (counts as dc), 2 dc in ring, *ch 1, 3 dc in ring; rep from * two more times, join with sc to top of ch-3. Fasten off and turn.
Join White with a slip stitch in any space.
Rnd2 (White) [Work ch 2 the first time, and hdc thereafter (counts as hdc), hdc5tog, hdc, ch 3, hdc, hdc5tog, hdc] in every space around, join with sl st to top of ch-2. Fasten off, t.
Join Grass Green with a slip stitch in any space.
Rnd3 (Grass Green) [Work ch 3 the first time, and dc thereafter (counts as dc), 2 dc] in every non-corner space and (3 dc, ch 1, 3 dc) in every corner space around, join with sl st to top of ch-3. Fasten off.
More Granny Square Ideas
This is a link to my granny square category on this blog. I have various posts such as bow tie pasta join, how to join granny squares as you go, granny square scarf, granny square top, granny square rectangular shawl, some granny blankets, granny parcel decorations. I promise a colorful and cheerful experience!
Here's my daisy granny square cardigan: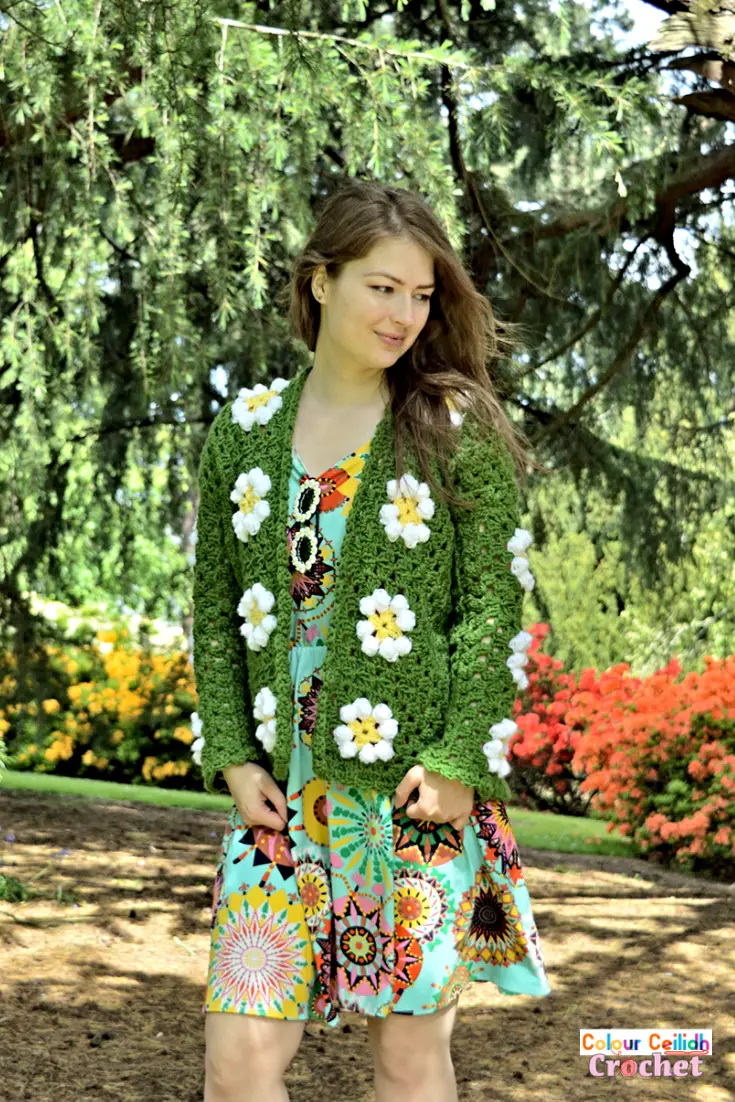 Well Done!
I really appreciate you visiting here, so a big thank you!
If you enjoyed my Simple Puff Daisy Granny Squares free pattern, please share the link to this post with your friends, subscribe to my email list (the form pops up when you click around or come back again), Pin your favourite image by hovering over it and follow me on Pinterest so you never miss a pin, like my Facebook page and follow me on Instagram to see behind the scenes and for more color in your life.
Happy Crocheting!
Justina